Latest News
Summer Solstice at Dream
Saints star Atelea Vea paid his first visit to the 'awesome' Dream sculpture to support a forthcoming event.
The towering second rower was joined by yoga expert, Nisha Srivastava and former miner and Cultural Coordinator for St Helens Council, Gary Conley for a warm up yoga session to promote Summer Solstice at Dream.
The free event, led by Nisha - aimed at all ages, genders and abilities - will take place on the morning of 21 June to mark the longest day of the year.
"Atelea Vea said: "I'm hugely impressed with the Dream sculpture; it reminds me of the Easter Island heads. I think that this event is taking place in the perfect setting and it is sure to be a great day."
Nisha, who has worked with several Super League teams, including St Helens RLFC, got the idea from New York - where each year hundreds of people turn up in Times Square for a yoga session to celebrate the solstice.
"'The idea is that the event brings the community together in a more spiritual way and will also promote a healthier lifestyle," said Nisha.
Gary added: "This is a wonderful opportunity for people to come along and enjoy - not only the yoga - but to see this world class sculpture we have in St Helens, erected on the heritage of a coal mine that this town was built on."
Summer Solstice at Dream will commence at 9:30am on Sunday 21 June at the Dream sculpture, Jubits Lane, St Helens, WA9 5BB.
Please bring a mat.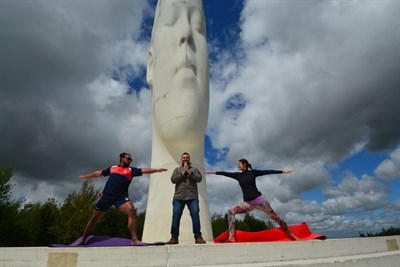 Scully Visits Dream
After seeing videos of pre season training of the Saints squad up at Dream, Saints legend Paul Sculthorpe was curious to go and see for himself the St Helens iconic landmark. Accompanied on the trip by Gary Conley, former miner at Sutton Manor and one of the key figures in bringing the sculpture to St Helens, Paul was told about the heritage of the site as a former mine, and the story behind Dream.
Gary, now Cultural Coordinator at St Helens Council, said, 'It was such an honour for me to take one of my sporting hero's around the site and explain why Dream came to be. Paul is such an iconic figure in the history of Saints and for him to say how much he liked Dream and what it stood for meant so much to me'.
Paul said"The artist who made Dream said " When we dream, anything is possible" and if you link that with Steve Prescott's famous words "What the mind believes, the body achieves "then you have the perfect inspiration for the people of St Helens. I am looking forward to bringing my family to see The Dream