Artist Selection
Curator Laurie Peake, the Programme Director: Public Art at Liverpool Biennial, took the ex-miners on a unique public art "voyage of discovery", taking in Emscher Park in Germany, the Yorkshire Sculpture Park, and the Liverpool Biennial itself.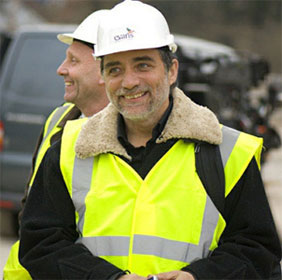 Based on the artist's brief, the indicative project timetable, and the ex-miners' initial thoughts, the Focus Group was presented with a longlist of 10 artists (plus examples of their works) who could potentially be approached to undertake the commission.
The Focus Group unanimously chose Jaume Plensa, a world class artist who has exhibited and completed major commissions across the globe, including in Canada, Israel, Japan, France, Germany, Russia and the United States.
His hitherto most famous work was The Crown Fountain (2004) in Millennium Park in the centre of Chicago.
His other public artworks in the UK include Blake (1996) - a light sculpture at the Baltic Centre for Contemporary Art in Gateshead, and Breathing (2008) - the illuminated glass dome of BBC Broadcasting House in London.
A decisive factor in selecting Jaume was his use of light, as illumination had been identified from the outset as an important desired element of the artwork in line with the former motto of both the colliery and St.Helens as a whole, namely ex terra lucem ("from the earth comes light").
This recommendation was ratified by the project Steering Group, chaired by Cllr. Brian Spencer, the current Leader of St.Helens Council but also previously an electrician at Sutton Manor Colliery.
Having visited Sutton Manor, met the ex-miners and, in his own words "fallen in love" with St.Helens and the lush green landscape surrounding the site, Jaume enthusiastically accepted the commission to develop an artistic concept for a landmark artwork on the former colliery and set to work.