Objectives & Partnership
The main objectives behind the creation of Dream were:
*To honour the human heritage of the Sutton Manor Colliery site and pay a lasting tribute to the history of coal-mining in St.Helens
*To symbolise the area's post-industrial transformation
*To put St.Helens "on the map" - raising its profile and enhancing its image
*To create an iconic new landmark for the whole region
*To generate significant economic benefits in terms of additional visitors and new inward investment
*To re-invigorate local community pride
*To serve as the catalyst for a lasting, high-impact, public art legacy programme

St.Helens Council proactively adopted its role as the lead body responsible for managing and making the project happen and forged an initial partnership with the Big Art Trust, the special purpose vehicle established to take forward the development of all seven Big Art sites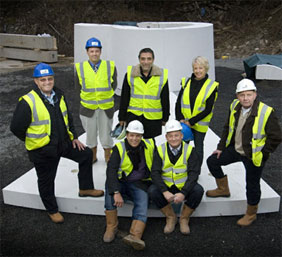 An ex-miners Focus Group was formed involving those who had successfully nominated the former Sutton Manor Colliery site for the Big Art Project: Ste Conlin, John Hamon Snr., John Hamon Jnr., Dr Frank Leech, Mel Moran, Terry Murray, Brian Salkeld, and Chris Sephton, with Gary Conley as the main spokesperson.
St.Helens Council then appointed public art specialists Liverpool Biennial to work with the Focus Group, help commission an artist, and curate the project.
These four - the ex-Miners, the Council, Liverpool Biennial and the Big Art Trust - were the core partners responsible for Dream's subsequent successful development and delivery.