Technical Development
The scale and design of the artwork, together with the nature of the site and former spoil heap, presented considerable technical challenges in terms of being able to translate the ambitious concept into a real 20 metre high sculpture.
Engineering firm Arup was appointed as the lead consultant responsible for technical design, tendering and overseeing the construction process, and, following detailed site investigations, a number of workshops were held to find practicable solutions to these challenges.
The chosen material was a bespoke mixture of white cement, Spanish dolomite, and titanium dioxide pigment, in order to lend Dream a brilliant, reflective, luminescent, white finish.
Full 3-D modelling was required in order to calculate the complex geometries involved and facilitate both the pre-cast concrete moulding process and the actual assembly of the artwork.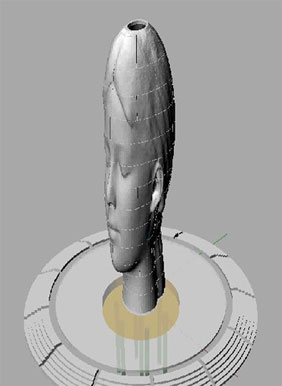 Panel sizes, joint and fixing types and locations, plus handling, loading and transportation requirements were also paramount and discussed in minute detail.
Due to its size and weight, the eventual configuration was made up of 54 individual panels for the head element of the sculpture and a further 36 for the plinth, each one determined both by artistic requirements and the two-fold connection system used to hold the panels together and in effect create an integrated monolithic structure.
A series of highly specialised sub-contractors were involved and the spectacular result is in part a testament to their skill and commitment: Cheetham Hill Construction Ltd. as lead contractor; Cordek to manufacture the 90 individual moulds; Evans Concrete to cast and assemble the 90 concrete panels; ICP to help install them.