Site & Location
Dream is located on the site of the former Sutton Manor Colliery in St.Helens.
It overlooks junction 7 on the busy M62 motorway and is midway between the region's two urban and cultural hubs of Liverpool and Manchester.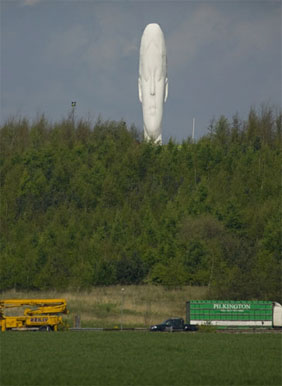 1,000s of tonnes of clean soil were imported in 1997 from the construction of the Trafford Centre to cap the spoil heap and make it fit for tree planting.
The Forestry Commission has planted over 50,000 trees on Sutton Manor since 2002.
Dream faces due south in the direction of the coal seam which runs to Fiddler's Ferry power station and beyond into Cheshire.
Its position means that as the sun moves across the face from east to west its contours and shading change during the course of the day.
The summit of Sutton Manor where Dream is sited offers good views across the Cheshire and Lancashire plains, and of the mountains of Snowdonia, the Pennines and the Peak District.
Click here for maps and directions.