Who Did What
Dream became a reality thanks to the hard work, dedication, commitment and ingenuity of a significant number of individuals, organisations and businesses.
The process and partnership underlying the successful development and delivery of Dream represents a best practice model for commissioning new public art that could be applied and adapted elsewhere.
The roles and contributions of various bodies may be summarised as follows:
* Ex-miners- site nomination, artist and concept selection, local advocacy
* Shining Lights Heritage Groupand the wider local community: local advocacy
* St.Helens Council:: landowner, commissioner and owner, responsible for overall delivery, securing funding, & promotion, plus future maintenance and legacy programme development
* Liverpool Biennial: public art and curatorial expertise, artist commissioning, project management
* Jaume Plensa: artist extraordinaire.
* The Big Art Trust: fund-raising, central co-ordination and advocacy
* Channel 4, Carbon Media: filming, advocacy, promotion, broadcasting
* Ove Arup: lead consultant & structural engineer
* Taylor Young Ltd: planning advisors
* Cheetham Hill Construction: lead contractor
* Cordek Ltd.: bespoke mould manufacturer
* Evans Concrete: bespoke concrete panel manufacture and assembly
* Forestry Commission: site leaseholder, area maintenance, and funder
* Arts Council England, The Art Fund: national funders, advocacy and promotion
* Northwest Regional Development Agency, Merseyside Objective 1 ERDF Programme, St.Helens Local Enterprise Growth Initiative, North West Coalfield Communities Regeneration programme: other principal funders
* Helena Partnerships: developing and delivering parallel community engagement activities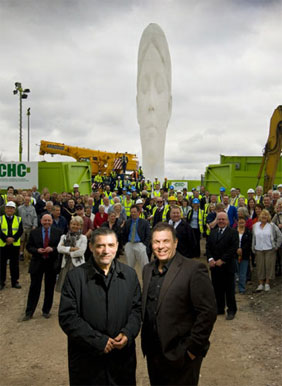 The singular nature of Dream, in terms of the site, the artist, the concept, and the individuals involved, touched all who came into contact with the project and is itself part of Dream's positive legacy going forward.